Stephanie Caley obtained a Bachelor of Science degree in Health Sciences: Herbal Medicine from the University of Westminster, and is a registered and insured member of the National Institute of Medical Herbalists.
Herbalists undertaking such a course are trained to understand the causes and developments of disease, and which herbs and pharamaceutical drugs could possibly interact. This makes herbs prescribed under consultation the safest way to use natural medicine, particularly when using alongside allopathic medicine.
Stephanie Caley has had a lifelong interest in health, and natural medicine; and even before becoming a practitioner, worked with some of the longest established herb suppliers in London before founding Caley's Apothecary.
Before being well & truly on her herbal path, although the love of herbs and nature's medicines was already there, Stephanie had intended to study pharmacy, and had been working alongside a pharmacist. When Stephanie had experience of her own health issue worsening, and discussed the potential side effects of her medication with her pharmacist colleague, she decided there was nothing to lose in going to see a herbalist. To this day, Stephanie has never needed to look back. Upon seeing the results, and personally experiencing the benefits of herbal medicine on her own health, she decided to follow her path of studying Health Sciences: Herbal Medicine.
Stephanie now uses herbs on her own children, bringing her lots of experience on gentle work with the little ones. She's done much work with fertility; particularly male, and through her own experiences, very much relates to allergy relief and respiratory support.
Stephanie dispenses her own herbal remedies, to be sure of the quality of the products she passes on to those who visit for a consultation, and sources organic wherever possible.
She also continues to further develop her knowledge of herbs and health through seminars that present the latest research, and can be found aiding current students of Herbal Medicine with their clinical training, and giving talks on herbal medicine to bring about awareness of the benefits of its use.
As well as clinical practice, Stephanie has appeared in magazines and on live TV to discuss the benefits of herbs, and in 2017, co-authored book: 500 Treatments for 100 Ailments.
© 2010-2021 Themedicalherbalistlondon.co.uk I Photos © Stephanie Caley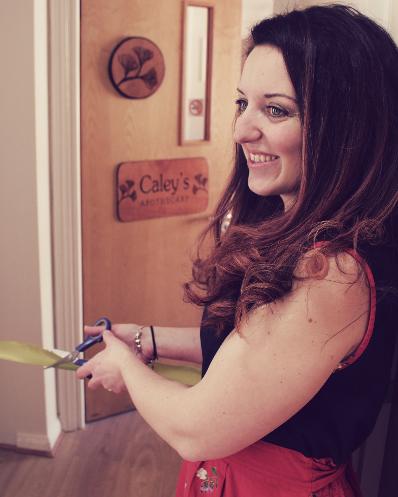 Stephanie Caley, MNIMH opening Caley's Apothecary